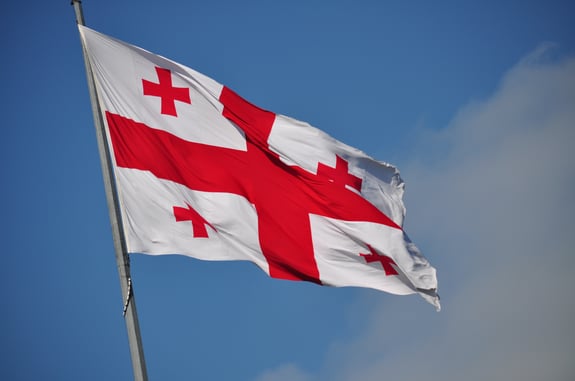 How To Hire And Pay Employees In Georgia
Emerald Technology's guide to hiring employees in Georgia
Georgian Lari is the official currency of Georgia. Its currency symbol is ₾, GEL.
Tbilisi is the capital of Georgia. Founded in the fifth century, it has served as the capital city of various Georgian kingdoms and republics.
Georgian is the official language of Georgia. It is written using Mkhedruli script.
The population of Georgia is 3.709 million (based on World Bank numbers as of 2021).
Employees in Georgia are generally paid on a monthly basis.
Georgia benefits from 17 public holidays
GROW YOUR TEAM IN GEORGIA
NO ENTITY, NO PROBLEM
To start growing your team in Georgia, you must establish a local entity- including an account with a local bank, a local office and an address registered as a subsidiary. This allows you to manage payroll, tax, benefits and compliance for your employees, but can take several months.
Emerald can hire and payroll your workers, quickly and compliantly with their ready to go entity. Make growing your team simple with Emerald as a global partner.
PROS AND CONS OF HIRING IN GEORGIA
Each year, more companies and investors choose to expand to Georgia. It is ranked seventh in the world for 'ease of doing business' due to its more relaxed setup regulations. You can register and manage your business fully remotely, which is a great way to encourage more foreign investment. Georgia's economic expansion is supported by business-friendly initiatives which make it attractive for organisations to expand here. In a study by the International Budget Partnership, Georgia was also found to be the fifth best country for governmental policies and budgets supporting new business.
Georgia also benefits from the 'Estonian model' of tax assessment, where businesses only pay income tax once they are distributing profit.
However, companies have experienced challenges around the lack of enforcement of IP rights, which is a critical factor for technology companies.
Georgia also benefits from the 'Estonian model' of tax assessment, where the business only pays income tax when the business is distributing its profits.
However, it has been identified that companies have found challenges around the lack of enforcement of IP rights, which for tech companies is business critical.
WHY GEORGIA IS GOOD FOR REMOTE WORKERS
As well as a tourist favourite, Georgia is quickly becoming a popular destination for the digital nomad community. The government introduced a campaign called 'Remotely from Georgia' to encourage more foreign nationals to work in the country. Georgia benefits from a low living cost which can be attractive to workers.
WORKING TIME AND OVERTIME IN GEORGIA
The standard working hours in Georgia are 40 hours per week. There must be a minimum of 12 hours rest between each working day. Overtime should be paid at 120% of the usual hourly rate and should not exceed 2 hours per day.
ANNUAL LEAVE AND PUBLIC HOLIDAYS
Employees are entitled to 24 days paid annual leave once they have completed 11 months of service. An annual leave benefit of one month's salary is to be paid three months before the annual leave. Additionally, employees are also entitled to 15 days unpaid leave each year.
Georgia has 17 public holidays.
January 1st: New Year's Day
January 2nd: New Year's Holiday
January 7th: Orthodox Christmas
January 19th: Orthodox Epiphany
March 3rd: Mother's Day
March 8th: International Women's Day
April 9th: Independence Restoration Day
April 22nd: Orthodox Good Friday
April 23rd: Orthodox Holy Saturday
April 24th: Orthodox Easter Day
April 25th: Orthodox Easter Monday
May 9th: Day of Victory over Fascism
May 12th: Saint Andrew the First-called Day
May 26th: Independence Day
August 28th: Saint Mary's Day
October 14th: Day of Svetitskovloba
November 23rd: Saint George's Day
PROBATION PERIOD IN GEORGIA
A probation period of up to 6 months is permitted in Georgia, this must be provided in writing.
RESIGNATION AND DISMISSAL IN GEORGIA
An employer will need to have a just cause for terminating an employee in Georgia. In the event of termination, an employer will need to provide 30 days' written notice. In addition to notice, at least one month's severance payment should also be offered to an employee. This will need to be paid within 30 calendar days of the termination of employment. If an employee wishes to resign, they will need to provide their employer written notice of 30 days.
CONTRACT OF EMPLOYMENT IN GEORGIA
A written contract of employment is not required by law but is strongly recommended for both indefinite and temporary employment. Contracts should be in the local language, and provide details of salary, probation periods, termination requirements, benefits, and compensation.
MATERNITY LEAVE IN GEORGIA
Expectant mothers are able to take 126 days' maternity leave. They are entitled to 100% of their daily salary up to 1,000 Georgian Llari. Additionally, mothers can take up to 604 days off work post-pregnancy. A mother is also able to transfer 57 days of her maternity to leave to her partner.
SICKNESS LEAVE IN GEORGIA
Employees can take up to 42 days of sick leave. Evidence, such as a doctor's note or sickness card from an approved medical practitioner, must be provided for the employee to be paid any sick leave.
SOCIAL SECURITY
There are no social security contributions in Georgia. All employees must be part of a pension scheme.
HEALTHCARE AND INSURANCE
Georgia does not have mandatory health insurance. Employees can choose to have their own private health insurance. Some employers do offer private health insurance as an additional benefit. There is also the option to sign up to local care authorities. For employees relocating to Georgia, it is strongly recommended that private insurance is taken out. The government provide healthcare vouchers to the poor and elderly.
Employment of
FOREIGN NATIONALS IN GEORGIA
Most foreign nationals will need a visa to work in Georgia. These are the main categories for visas;
A category – diplomatic visa

B category – Special visa

C category – ordinary visa

D category – immigration visa

T category – transit visa
Visas in Georgia
Visas are further split by single-entry short-term visas, multiple entry short terms visas, and long-term visas. The most popular visa for foreign nationals wishing to work in Georgia is the D1 visa. This is usually issued for one year. However, exceptions can be made based on an employment contract or offer letter with longer validity. This visa can be extended for up to 6 years, by which time the employee will be able to apply for permanent residence. The application process should start in the applicants' home country or country of residence at Georgia's consular office. A decision on a long-term visa may take up to 30 days.
Salary Taxes
MINIMUM WAGE IN GEORGIA
Georgia has a minimum wage rate that has remained unchanged for many years. The rate is not representative of what Georgians earn. Any wages are dependent on what has been agreed in a contract of employment, or any collective bargaining that is in place.
INCOME TAX
The Georgian tax year runs from January to December. It is the employer's responsibility to ensure taxes are paid from salaries before payments are made to employees. Employees will need to pay a flat rate of 20% income tax.
SALARY PAYMENTS IN GEORGIA
Employees in Georgia are generally paid on a monthly basis.
SOCIAL SECURITY CONTRIBUTIONS IN GEORGIA
There are no social security contributions in Georgia. However, both the employer and employee have mandatory 2% pension contributions. Employers also need to pay a 15% corporate tax rate
WORKER MISCLASSIFICATION IN GEORGIA
Similar to other countries, Georgia has strict rules on classifying individual contractors and full-time employees differently. Misclassifying your workers can put your business at risk of fines.
ENQUIRE ABOUT OUR GLOBAL HIRING SOLUTIONS
Start a conversation on how we can assist you to grow your remote team.