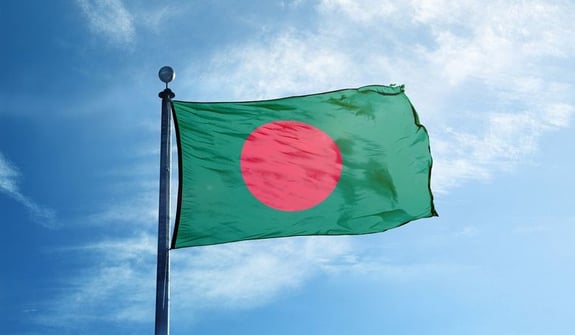 How To Hire And Pay Employees In Bangladesh
Emerald Technology's guide to hiring employees in Bangladesh
Bangladeshi taka is the official currency of Bangladesh. Its currency symbol is ৳, BDT.
Dhaka is the capital and largest city in Bangladesh. It is also home to the world's largest river delta.
Bengali is the national language and is spoken by 98% of its residents.
The population of Bangladesh is 166.3 million (based on World Bank numbers as of 2021).
The payroll cycle can be daily, weekly, bi-weekly or monthly.
Bangladesh has 14 public holidays
GROW YOUR TEAM IN BANGLADESH
NO ENTITY, NO PROBLEM
To start growing your team in Bangladesh, you must establish a local entity- including an account with a local bank, a local office and an address registered as a subsidiary. This allows you to manage payroll, tax, benefits and compliance for your employees, but can take several months.
Emerald can hire and payroll your workers, quickly and compliantly with their ready to go entity. Make growing your team simple with Emerald as a global partner.
PROS AND CONS OF HIRING IN BANGLADESH
Bangladesh has a rapidly growing economy, offers a strategic location and provides a younger but skilled workforce. Bangladesh is known to be a great location for outsourcing talent. The workforce is large and relatively inexpensive, making it easy to find employees. The cost of living is low, which can help keep operating costs down.
However, the infrastructure in Bangladesh is not well-developed which can make doing business difficult. Corruption is still a problem here, which can lead to higher costs and delays.
WHY BANGLADESH IS GOOD FOR REMOTE WORKERS
Remote working in Bangladesh is a new concept, but the demand for remote work has grown with a recent tech boom in the country. The government has launched some digital transformation initiatives, like the 'Digital Strategy 2022-25' from the United Nations Development Programme, which will be focused on not only boosting its digital transformation but on building strong networks.
WORKING TIME AND OVERTIME IN BANGLADESH
Bangladesh has a 40-hour standard working week, typically worked Sunday through to Thursday. Total hours worked should not exceed 48 per week.
Overtime is generally calculated by dividing the total salary (including medical and housing benefits) by 208. Employers then double this number and multiply the result by the number of overtime hours worked.
ANNUAL LEAVE AND PUBLIC HOLIDAYS
Employees who have worked for at least one year are generally entitled to annual leave according to the following schedule:
1 day for every 18 days of work in a shop, commercial, industrial establishment, factory, or road transport establishment

1 day for every 22 days of work on a tea plantation

1 day for every 11 days of work as a newspaper worker
Bangladesh has 14 public holidays
January 1st: New Year's Day
February 21st: International Mother Language Day
February 28th: Shab-e-Miraj
March 26th: Independence Day
April 14th: Bangla New Year
April 29th: Shab e-Qadr
May 1st: Labour Day
May 1st: Eid al-Fitr
May 15th: Buddha Purnima
July 9th: Eid al-Adha
October 1st: Durga Puja
October 9th: Milad un Nabi
PROBATION PERIOD IN BANGLADESH
Clerical workers are entitled to a maximum probation period of six months; other workers are entitled to a three-month probation period.
RESIGNATION AND DISMISSAL IN BANGLADESH
Employees made redundant after at least one year of service are generally entitled to one month's notice or pay in lieu of notice, and 30 days of pay for every year served. Employees who have been convicted of a criminal offense or found guilty of misconduct are not owed notice or severance. Termination of employment in Bangladesh for other reasons generally requires the employer to provide 120 days' written notice for monthly salaried workers and 60 days for other workers, or equivalent payment in lieu of notice.
RESTRICTIVE COVENANTS
Restrictive covenants are invalid and unenforceable in Bangladesh in accordance with section 27 of the Contract Act 1872, which states that every agreement which restrains a person from exercising a lawful profession, trade or business of any kind is void.
CONTRACT OF EMPLOYMENT IN BANGLADESH
It is legally required to put a written employment contract in place in Bangladesh, in the local language, which lays out the terms of the employee's compensation, benefits, and termination requirements. An offer letter and employment contract in Bangladesh should always state the salary and any compensation amounts in Bangladeshi Taka rather than a foreign currency.
MATERNITY LEAVE IN BANGLADESH
Pregnant employees who have worked for at least 6 months are entitled to 8 weeks of paid maternity leave before the birth and 8 weeks of paid leave after the birth. Those who have worked less than 6 months or who already have two other surviving children are generally eligible for unpaid leave. Women are forbidden to work for 8 weeks after the birth of the child. There is no statutory paternity leave in Bangladesh.
SICKNESS LEAVE IN BANGLADESH
Employees, other than newspaper workers, are generally entitled to annual paid sick leave of 14 days. Newspaper workers are entitled to sick leave at half-pay for not less than 1/18th of the period of employment. Employees must present a medical certificate in order to receive sick leave.
SOCIAL SECURITY
In Bangladesh, social security includes old age pension, disability pension, survivor allowance, cash sickness and maternity benefits, medical benefits, death benefit, work injury and death compensation, and disability benefits
Employers, employees, and self-employed individuals are not required to make any contributions, as the government covers these expenses.
HEALTHCARE AND INSURANCE
Bangladesh has a public / private health care system. NGOs and international organisations provide much of the rural care.
Employment of
FOREIGN NATIONALS IN BANGLADESH
Business visitors can enter the country with a Category "B" visa (Business Visa) or Category "T" visa (Tourist Visa), depending on the type of business activities they intend to perform. Both visas permit stays of 30 or 90 days. All foreign nationals require authorisation to work in Bangladesh. For long-term assignments, the foreign national generally applies for an Employment ("E") Visa and files a Work Permit application within 15 days of arrival in Bangladesh. Once the work permit is granted, the E Visa can then be extended upon request.
Salary Taxes
MINIMUM WAGE IN BANGLADESH
The minimum wage in Bangladesh is 1,500 Taka per month for all economic sectors not covered by industry-specific wages, which are often higher.
INCOME TAX
| | |
| --- | --- |
| Taxable Income | Tax Rate |
| Up to 250,000 | 0% |
| 250,001 - 650,000 | 10% |
| 650,001 - 1,150,000 | 15% |
| 1,150,001 - 1,750,000 | 20% |
| 1,750,001 - 4,750,000 | 25% |
| a4,750,001+ | 30% |
SALARY PAYMENTS IN BANGLADESH
In Bangladesh, the payroll cycle can be daily, weekly, bi-weekly, or monthly. By law, employees' salaries must be paid by the end of the seventh day after the final day on which the payment is due.
SOCIAL SECURITY CONTRIBUTIONS IN BANGLADESH
There is no Social Security or Social Contribution Rates in Bangladesh.
WORKER MISCLASSIFICATION IN BANGLADESH
Similar to other countries, Bangladesh has strict rules on classifying individual contractors and full-time employees differently. Misclassifying your workers can put your business at risk of fines.
ENQUIRE ABOUT OUR GLOBAL HIRING SOLUTIONS
Start a conversation on how we can assist you to grow your remote team.